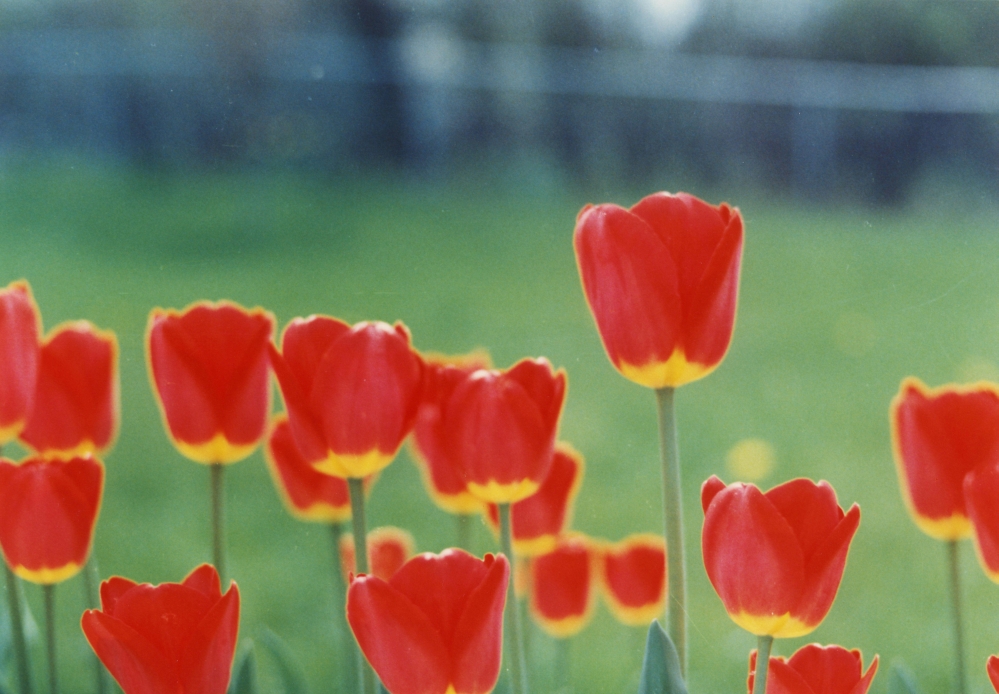 Ed Feeks This information was provided by John McIntyre
[Click] John's page

Ed Feeks and I (ordination class of '56) left Bedford in the early fifties and we had parallel Naval Careers, both retiring as senior Captains.

Ed and I were best friends in GE - Here is a photo of me directing him in a production of "Who Ride on White Horses" which we took on the road to at least one DuPage county parish in late '50 or early '51. Tom Quigley (the very prominent "Peace and Justice" Tom Quigley) who was a year behind us stage-managed the whole thing.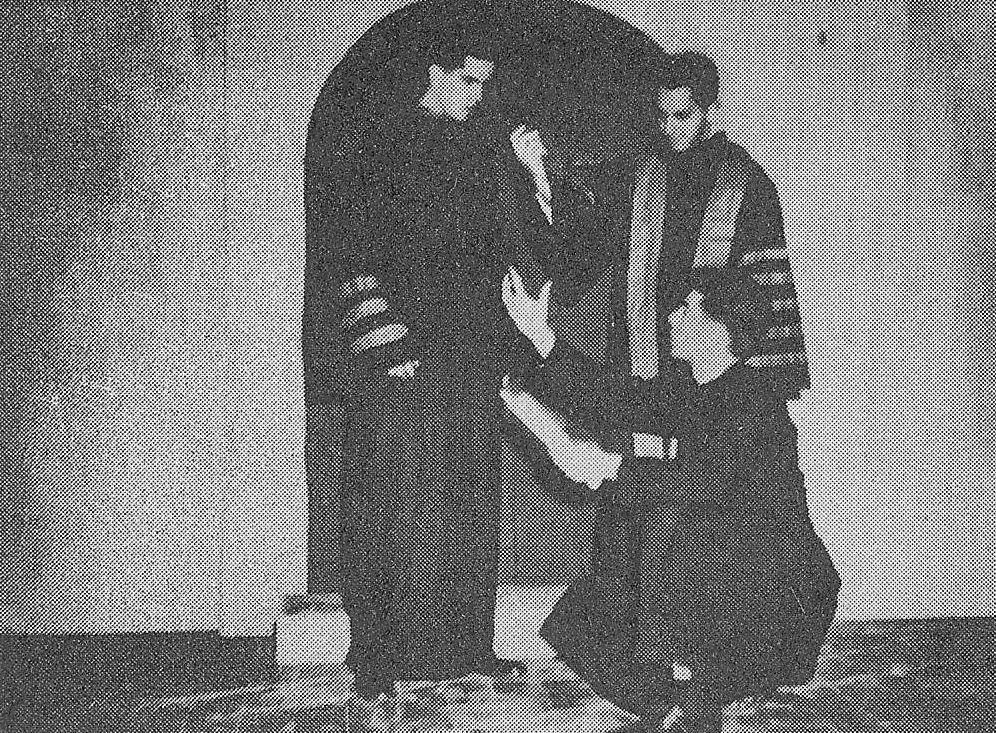 I am on my knee "directing" Ed (left) with Gerry Pavis looking on

Any way, as I said above, Ed and I both left Bedford - me first - and went through Navy OCS. Ed elected Aviation Intelligence as a specialty, followed by pilot training in Pensacola.

I had been commissioned earlier and following a year or so at sea, I went to Pensacola as well. After we got our wings,

Ed elected single engine fighters and flew the brand new F3H super Banshee. After my first tour,

I was selected to open an Academic Instructors Training Center there and a couple of weeks later, I grabbed Ed and we ran it together for two and a half years.

We both went to American University for Masters Degrees after Pensacola, then back flying airplanes.

I spent four years snooping on Russia from Turkey (see The Last Boomerang if it's still in print), was with Fleet Air, Western Pacific for two full years '64-'66 and commanded Raleigh during the '76 Beirut evacuation.

Ed went to the east coast Photo squadron and grabbed a Distinguished Flying Cross (very rare in "peacetime'). There is a historic movie clip of Adlai Stevenson showing the entire United Nations Assembly Ed's photos of the Soviet Missile emplacements in Cuba which kicked off the entire "Cuban Missile Crisis."

Following those squadron tours, we both worked in the Pentagon, I in long-range force planning and Ed in Plans and Policies specializing in the US Naval Reserve forces.

He was the commanding officer of a heavy recon squadron enroute to Viet Nam on Forrestal when the tragic fire occurred and never got there.

We both went to the War College a year apart, we both commanded aircraft squadrons together and while I went to drive ships at sea, Ed commanded the Reserve Carrier Air Group in the Atlantic. As very senior Captains by this time, Ed had the Naval Reserve Training Group in Jacksonville and I was the Research Director at the National Defense University, then we both retired. We interacted constantly in retirement,

Ed's wife Sandy and my wife Harriet were buddies, and we all were together for the fiftieth ordination weekend at Maryknoll in 2006. Ed acquired a MBA and worked as a Tax Consultant. He had a large family with whom we grieve at his passing. He was my best friend.

Here is Ed's obituary. I'm including it inline, but here is a link to the same information.

[Click] Ed Feeks Obituary

FEEKS Edmond M., Captain U.S. Navy, Retired. Died April 26, 2016, at the age of 86. He was born the sixth and youngest child of John J. and Alice O'Donnell Feeks on November 29, 1929 in Richmond Hill, Queens, NY.

He received a BA degree in Philosophy from Maryknoll College in 1951, later earning an MA in International Relations from American University, and an MBA from the University of North Florida.

He was a distinguished graduate of the U.S. Naval War College, Newport, RI.

In 1957, he married Sandra Estelle Flood. Together they gave life to seven children, one of whom died as an infant. Ed loved his family selflessly and generously, through every joy and sorrow. His passing leaves a monumental void.

Capt. Feeks entered the Navy in October of 1952, and was commissioned through the Officer Candidate School. After flight training he was designated a Naval Aviator and spent seven years at Cecil Field, assigned to VF-14, the staffs of Air Groups 16 and 13, and VFP-62. He flew reconnaissance missions in the RF-8A Crusader over Cuba during the Cuban Missile Crisis.

In 1967, he reported as Executive Officer of RVAH-6, a reconnaissance squadron based aboard USS RANGER, and flew combat missions in the RA-5C Vigilante over Vietnam. He became Commanding Officer of the same squadron and deployed aboard USS ENTERPRISE, again flying missions over Vietnam. For a short period, he was CO of RVAH-13 aboard USS FORRESTAL.

In 1971, he was assigned as Commander, Attack Carrier Air Wing Reserve TWENTY, at NAS Jacksonville. Shore assignments included instructor duty at the academic instructor training unit in Pensacola; flight instructor in Beeville, TX; staff duty at Atlantic Fleet Naval Air Force Headquarters in Norfolk; staff duty at the office of the Chief of Naval Operations in the Pentagon; and finally as CO of the Naval Air Reserve Unit, Jacksonville, FL.

Captain Feeks's decorations included the Legion of Merit, the Distinguished Flying Cross, the Meritorious Service Medal, the Air Medal (5 Strike/Flight Awards), the Navy Commendation Medal, and various unit, campaign, and service awards.

He retired from the Navy in 1979. For the next 18 years, he managed law firms in Jacksonville and Palm Beach, retiring again in 1997.

He was a Life Member of the Association of Legal Administrators, Past President of the Jacksonville Chapter, and Charter President of the Palm Beach Chapter.

Ed spent the last two decades preparing tax returns, eventually qualifying as an Enrolled Agent with the Internal Revenue Service. In this he gave generously to people dealing with various tax problems, often making house calls.

Ed enjoyed many years in the Tailhook Association (Charter Member), the Navy League, the Association of Naval Aviation, the Military Officers' Association of America, the San Jose Country Club, and the San Jose Yacht Club (Commodore, 2003).

He served as a lector for more than 40 years at Catholic parishes in Rhode Island, Virginia, and Florida. He was President of the Parish Council of St. Joseph's Catholic Church in Mandarin (1981-1983), and most recently a parishioner of Assumption Catholic Church.

Ed is predeceased by his parents; his infant son, Robert; brothers John O'D., James J., and Thomas V., and sister, Alice F. Walsh.

He is survived by his beautiful wife, Sandra; children, Dr. Edmond F. Feeks (Mary), Michael J. Feeks (Bridget), Lawrence G. Feeks, Mary F. Davis (Eric), Elizabeth A. Koller (Steven), and LtCol William A. Feeks, USMC (Laura); twenty-six grandchildren, and ten great grandchildren; a sister, Grace Fitzpatrick; and a host of beloved nieces and nephews.

The family will receive friends and well-wishers from 5:00 p.m. to 8:00 p.m. on Sunday, May 1st with Vigil Prayers at 6:00 p.m. in Hardage-Giddens Oaklawn Chapel. Mass of Christian Burial will be celebrated at 10:30 a.m. on Monday, May 2nd in Assumption Catholic Church 2403 Atlantic Blvd. Jacksonville, with Father Frederick Parke as Celebrant, followed by interment with honors in Jacksonville National Cemetery.

Memorial contributions may be made to

Early Childhood Learning Center [Click]
Women's Help Center [Click]

Please Sign the guestbook at [Click]