GE2000demo <! xxxxxxxxxxxxxxxxxxxxxxxxxxxxxxxxxxxxxxxxxxxxxxxx-->
---
---
<!img src="../AA_Extra/BigGEb_00demolish.jpg">

Chicago Tribune (August 2000) - source - Bob Chaney (65)

(Not available on public website - in ../AA_Extra/BigGEb_00demolish.jpg)
---
Demolition Pictures - September 2000 - source Bob Doyle ('64) (email)
---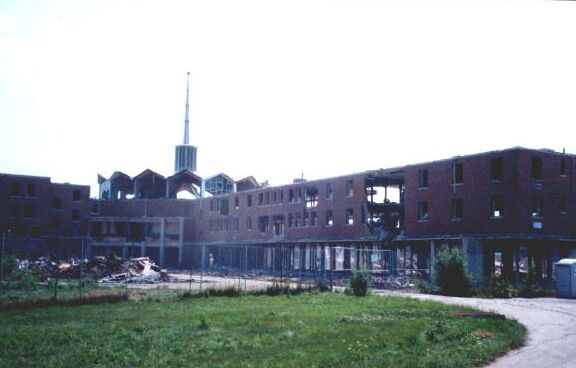 ---
GE Demolition Leaves Nothing But Memories... and a 25.3-Acre Park

On 13 October 1999, after an 18-month struggle, the Glen Ellyn Park District won the right to purchase the property of the former Maryknoll College for $5.3 million. The Park District must now find the funds to turn the campus into a park for the village and neighborhood. Plans are to build two baseball fields, two soccer/football fields, and a playground on the grounds of the 52-year-old former seminary. (The site owners, Maryknoll Restoration, had weighed another offer from Red Seal of Northbrook to develop the 25.3-acre site into single-family homes and townhouses).

Demolition of the 331,000-square-foot edifice began in August 2000 -at a cost of $1 million - and was scheduled to be completed by the middle of December 2000. The park district estimates that it will take three to five years to complete work on the park.
---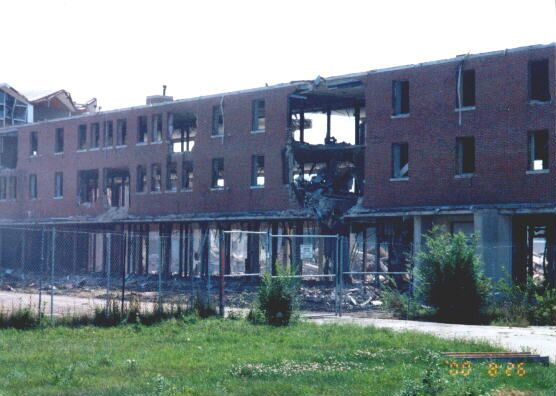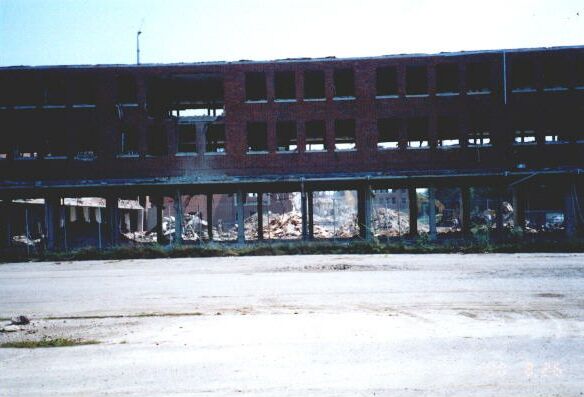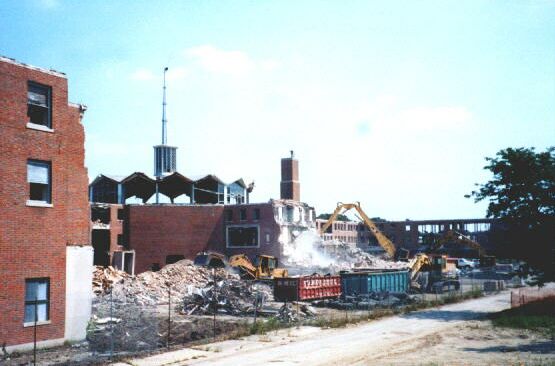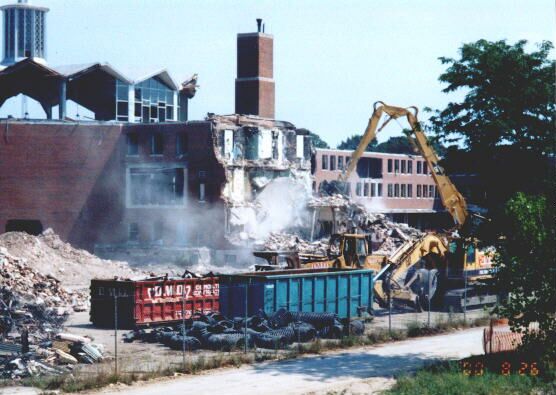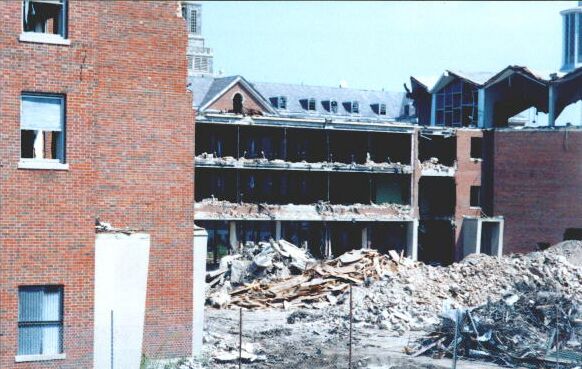 ---
Demolition Leaving Only Memories of Maryknoll

by Judith Cookis, Daily Herald, 24 August 2000

Warren Roth remembers Maryknoll in its heyday. The former seminary campus, which began to fall to demolition crews Wednesday, is now an almost unrecognizable pile of rubble, weakened over the years by fires, floods, and vandals. But in 1949, when the school opened on the site of an old golf course, it was a pristine, spiritual place, said Roth of Naperville, one of about 120 men in the school's inaugural class. After being ordained a priest Roth returned to the college as an anthropology professor in 1964. "I'm originally from New York, but I got to like the Midwest a great deal. I made many lasting friends there," he said.

"The students at Maryknoll were very good students." Brother Adrian Mazuchowski also studied at Maryknoll betwcen 1950 and 1952. He, too, remembers a pleasant, country setting, with rolling hills where town houses now stand. Builders left part of the golf course intact, and students took to the links occasionally, Mazuchowski said. The feeling of community was strong and enrollment was high, he added. "We were getting 100 freshmen a year ... We had 500 live-in students," Mazuchowski said.

Roth joined more than a dozen former students at the abandoned site four years ago for a reunion. To their horror, they found a decaying structure. "The building we had fond memories of had been left to fall apart," Roth said, who agreed demolition was the only option. "It had to come down. It was looking so bad," Roth said. "What really got me was the satanic symbols in the chapel .

When the Maryknoll Society left Glen Ellyn in the early 1970s, the building became a law school. After that, the sprawling, 25-acre site was slated to be a retirement community, but the idea never materialized. The park district bought the property last year and plans to turn it into a park with playing fields.

Crews on Wednesday attacked the west end of the H-shaped structure, chipping away at the newest wing, built in the 1960s. Special machines, purchased by the wrecking company especially for this project, use claw-like arms to break off pieces of the red brick exterior and cut through walls. "It just chews it up," said Dominick DiSilvio, general manager of DMD Services, the wrecking company.

The original building, with its distinctive bell tower and cross, will come down last. "When they get to the (original part), they'll have trouble," Roth predicted. "The architect (a former priest) told us it's built for 200 years."

There was little fanfare marking the building's demise Wednesday. Even the curious ghost busters, who have visited the spot rumored to be haunted by the ghost of a "stay-behind" priest, stayed away. "No, there's been no ghost sightings," joked Di Silvio. Besides a time capsule discovered in a cornerstone of the building in February, officials say they have unearthed no other surprises.

Demolition is expected to be completed by Christmas, park officials said. A few neighbors in the adjoining Maryknoll Estates subdivision watched the progress Wednesday. It's all finally coming together," said Wendy Durkin, whose backyard faces the original building. We're delighted. It's going to be beautiful."
---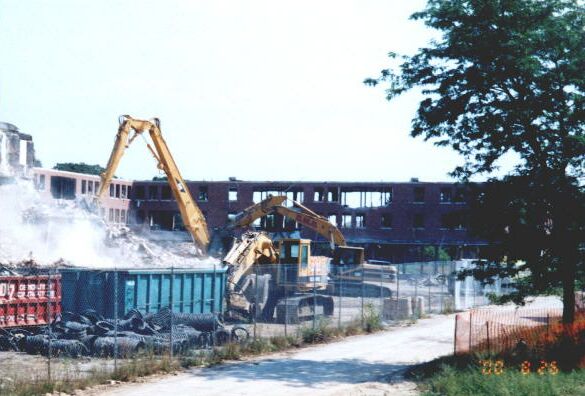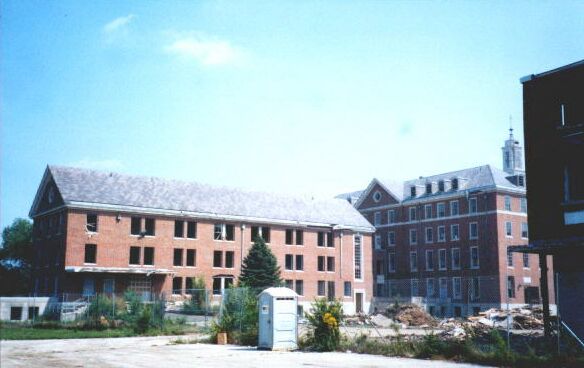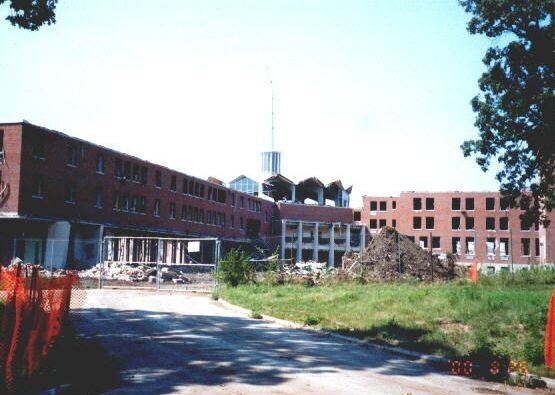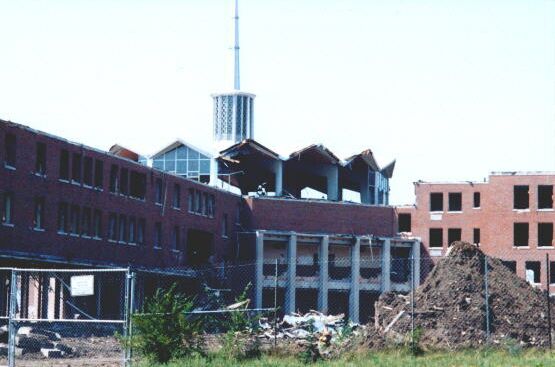 ---
Uncovering the Haunting of Maryknoll

by Bill Jablonski, The Glen Ellyn News, 27 July 2000

"Maryknoll is probably not haunted anymore." Disappointing news to real-life ghost-hunter and president of Ghost Research Society Dale Kaczmarek.

As part of a recent, small expedition, Kaczmarek, who was featured on The Discovery Channel's "Real Ghost Hunters," went to see if the abandoned Catholic seminary buildings are home to some supernatural activities. "Ghosts like to associate themselves with living persons," said Kaczmarck, who has been tracking ghosts for over 25 years. "With a place like Maryknoll or anyplace that has structural changes going on, we notice a change in spiritual paranormal activity."

Set for demolition at the end of this month, the 25-acre Maryknoll site was purchased by the Glen Ellyn Park District to make way for the possibility of additional baseball fields. Demolition, which originally was slated to begin in mid-July, is expected to last up to six months.

Legend has it that on different occasions, Maryknoll seminarians and faculty had encounters with a "phantom priest" inside of the photo lab's darkroom. One student photographer alleged a feeling of being watched while working in the tab and then feeling a strong, cold hand gliding along his back. He also noticed the sudden, inexplicable temperature change of his photography chemicals.

Later, in researching photo files with a colleague who had a similar experience and a sighting of the ghostly figure, the fellow student, with much certainty, had hand-picked a photograph of a deceased priest. After discussing the incident with other students the pair discovered that the photography chemicals they were using had once belonged to that very priest.

Vacated in 1971 by the seminary due to the rising costs of operations, the site was later converted into a law school for Lewis University in 1974. The school eventually moved, also due to cost of maintaining the buildings. In 1986, a Boston company called Elder Care Services was to turn the property into a senior citizen's retirement community, but that never materialized. Some say the spirits occupying Maryknoll could be the reason why these events came to pass.

Ghost-hunting enthusiast Melissa Vola feels different. "The spirits are not holding back the demolition," said Vola. "I do think it's possible that when they start, the workers involved in the demolition might experience some unexplained activity." Vola believes it would not be unusual to have a haunting during that period of time with such occurrences as objects levitating, and cold spots. "My advice to them would be to be very careful," Vola said. "Use extra care."

Kaczmarek agrees that as the impending doom of Maryknoll begins, this may cause the dormant structure to become a bit more lively with a little help from the Great Beyond. "The people who used to live there may be ghosts now and be upset that the place is being torn down," said Kaczmarek. "I wouldn't be surprised if there is some activity down there."

Kaczmarek has an Internet site that covers his extensive experiences, including documented accounts and a collection of various ghostsighting photos.

Ghost Hype

Graduate Albert Waszok, who attended Maryknoll from 1967 to 1971, equates the ghost hype with "telling spook stories around a campfire." "There were always people talking about it," Waszok said. "But they were just stories going from one to the next." Waszok does however recall hearing one story in 1966 of an old medicine room that was supposedly haunted. The room was in an attic section of one of the older buildings dating back to 1949.

According to rumors Waszok heard, the room, which was used to store pharmaceuticals being sent out to missionaries, was haunted by someone or something. At one point students confided their story to a Maryknoll priest from Latin America who then allegedly went up to the medicine room to perform an exorcism.

The Glen Ellyn News contacted that priest to inquire about Waszok's claim. Father Rafael Davila, who is now Maryknoll's spiritual director in Houston, Texas, was a student of the seminary here from 1949 to 1953 and a priest from 1960 to 1969. Although refuting any speculation of ever performing an exorcism in the medicine room, Davila, who admittedly says his memory is not that of a younger man, does not dismiss students' accounts of the room being haunted. "if students came to me with strange things going on, I would have gone and given a blessing. I could see myself going there and giving deep respect and saying prayers and giving blessings."

The 69-year-old priest, who taught Spanish and French at the time, said he would take what the students were saying regarding haunting very seriously. "The church is usually very sober and skeptical of that," stated Davila. "At the same time, we do believe in a spirit world, in Guardian Angels, and evil spirits. So we respect that."
---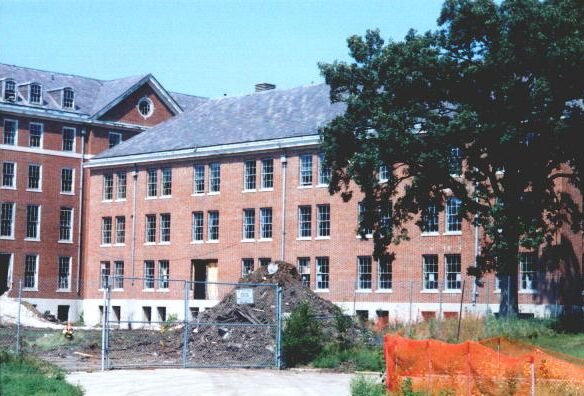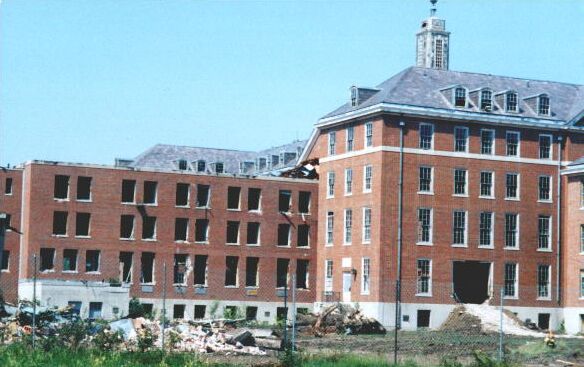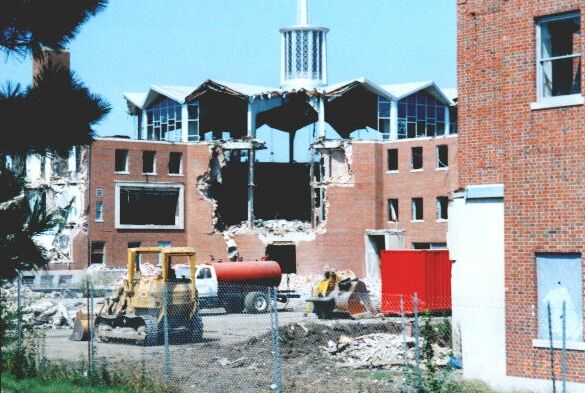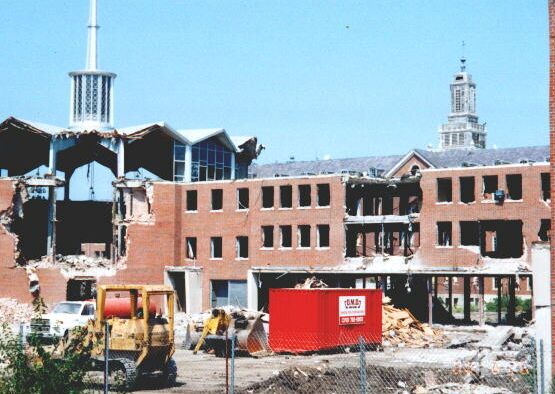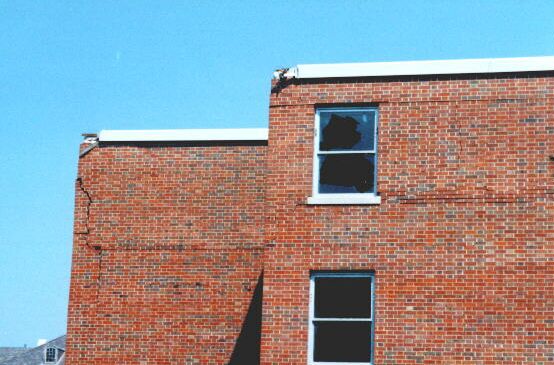 ---
Maryknoll bell tower falls to demolition

by Victoria Pierce Daily Herald, 25 October 2000

The early morning fog hid the change, but by Tuesday afternoon it became apparent. The bell tower of the Maryknoll Seminary, long an area landmark, was no more.

"I was just coming by on the expressway and for the first time I couldn't see the steeple," said Bill Keenan, a Maryknoll Estates resident who was watching a giant crane rip apart the building like a dinosaur devouring its prey. "Things have changed," he said.

Watching the demolition has become a favorite pastime for several area residents. "It's one of those landmarks you hate to see go but you saw it deteriorate," said Carole Lisson, who also lives near the abandoned seminary. Her husband came to the seminary for some training when he was 9 years old. And her grandfather used to golf here before the seminary was built in the 1940s. Back then a round of golf cost 10 cents and public transportation from Oak Park was 5 cents, Lisson said.

Some may be surprised that the stately old building is only about 52 years old. With hundreds of large windows, arches, and decorative masonry it looks more like it was built in the 1840s rather than the 1940s. "It was built to last 200 years," said Dominick DiSilvio, general manage of the wrecking company, DMD Services.

The bell tower was the most prominent feature of the landmark. It came down about 6 P.M. Monday evening. "It just kind of hung there for awhile and they smacked at it until it fell down," said Carol Galla, who also lives nearby and sat with Lisson and neighbor Gay Goodwin as the demolition continued Tuesday afternoon. "It's one of those things it's addicting to watch," said Lisson, as the crane deftly pulled at some steel roof beams and tossed them to the ground like toothpicks.

"He's an artist," local resident George Graham said of the crane operator as a cascade of bricks and glass fell at the touch of the machine's mouth. "Little kids, especially little boys, would love to watch this .... It's very similar to being devoured by an animal," Goodwin said.

The fascination was bittersweet. Goodwin said adjacent residents are happy to see the sunsets for the first time now that part of the building is gone. And they are looking forward to the 25-acre park that will take its place in the coming years. But neighbors will also miss the presence of the solid building that gave their neighborhood its name.

But it was time for it to go. The seminary was vacant for 15 years and had not been fully used since the mid- 1970s when the Maryknoll Society closed its college and left Glen Ellyn. Lack of care had taken its toll. "It was always pretty from a distance. But up close you could see some of the problems," Graham said. "It's going to take some getting used to."
---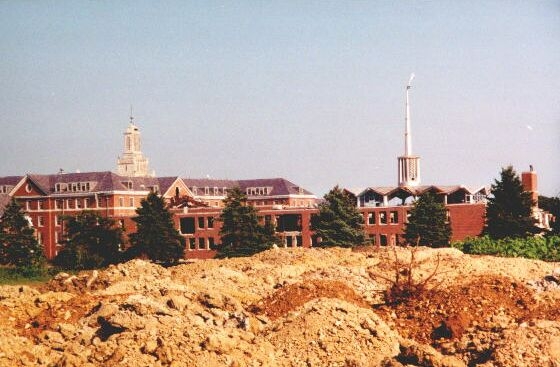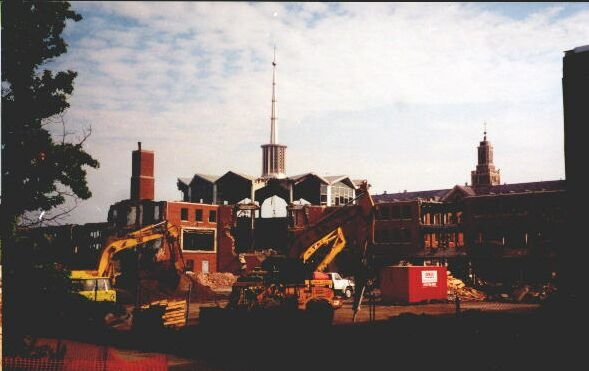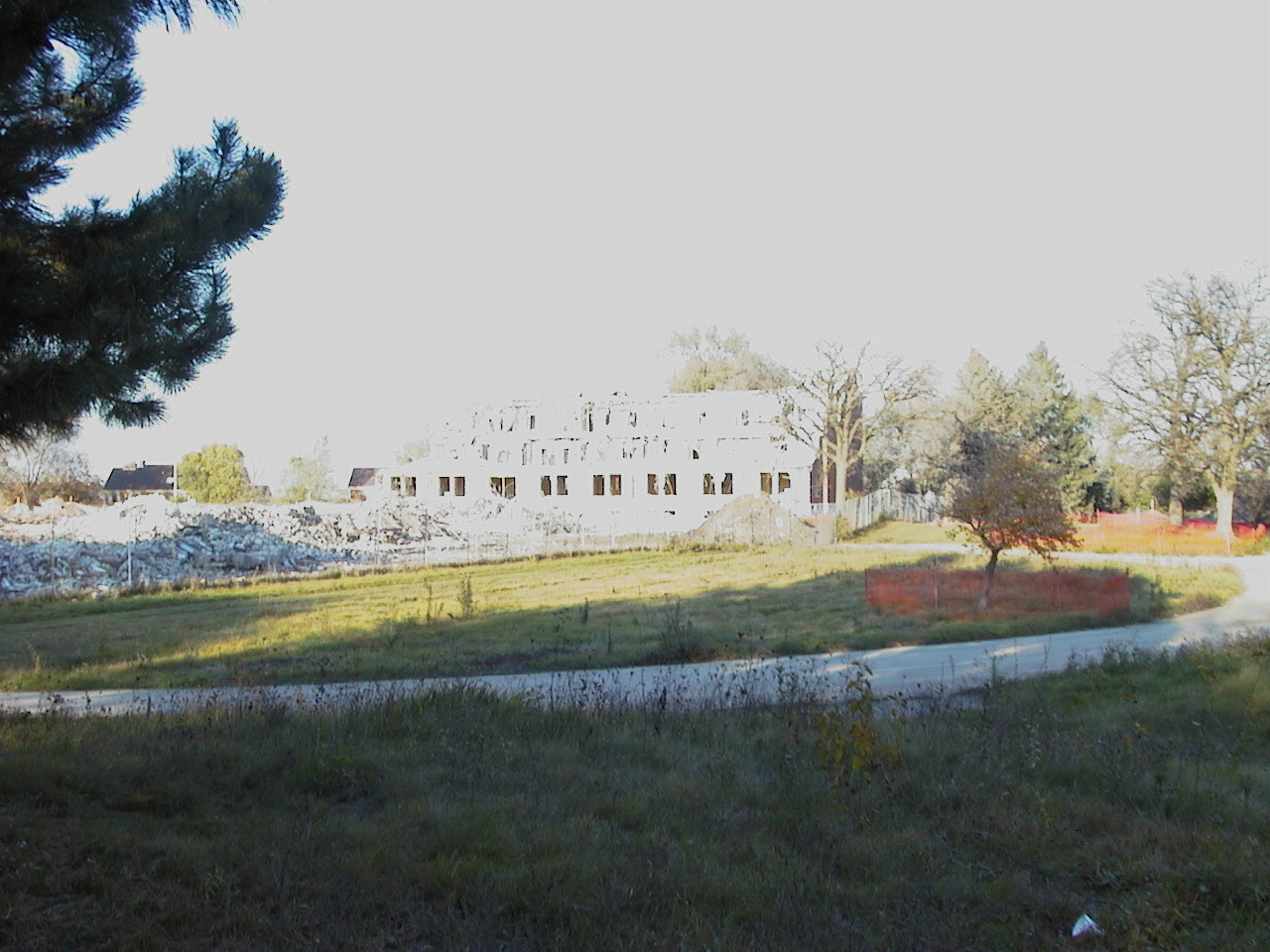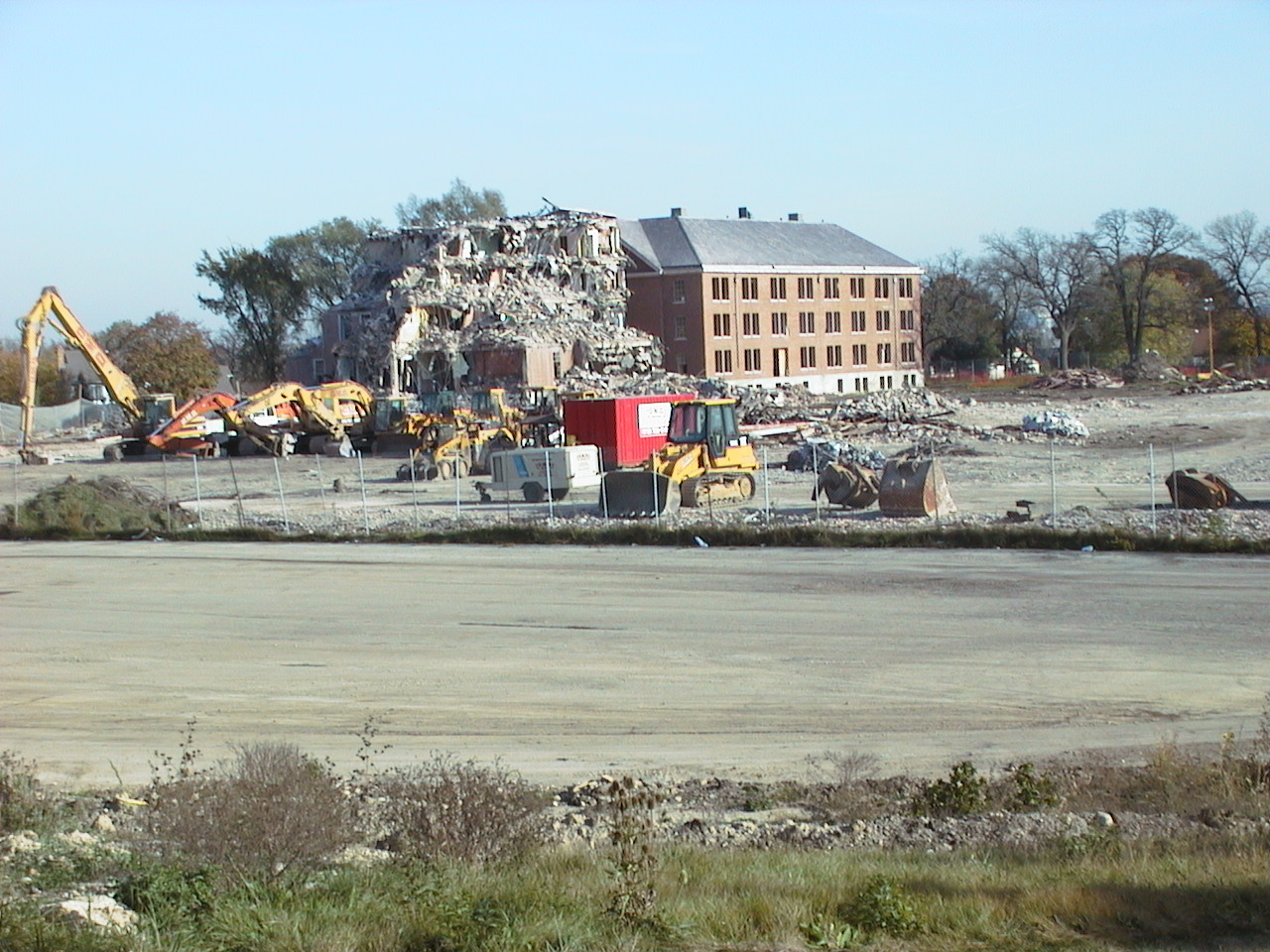 ---
GE park board considers 2 plans for Maryknoll site

by Harry Hitzeman, Daily Herald, 10 January 2001

Glen Ellyn park leaders have the first two visions of what can become of the former Maryknoll Seminary. Two landscape architecture firms presented the park board Tuesday night with their plans for the 25-acre site, southeast of Route 53 and Pershing Avenue.

The first plan, hatched by the Chicago-based Teng & Associates, contained a wealth of recreational activities, including an outdoor climbing wall, a driving range, a skate park, tennis courts, baseball diamonds, a sculpture garden, par-3 golf holes, and a concession area with banquet facilities. "These are illustrations of how we would work with you as opposed to 'Hire us, we have the right idea all ourselves'", said Allen Morris, of Teng & Associates.

The second proposal came from Grayslake-based 3D Design Studio. It featured two full-sized baseball diamonds, two soccer fields, a playground, batting cages, adventure golf, and a safety town. Walking paths wrapped around the park, resulting in more green space than Teng's plan.

The proposals contained several similarities, each suggested by the park planners: soccer and baseball fields, a sculpture walk and elements that generate revenue.

The park board will view four more proposals in upcoming months before hiring an architect. Overall, commissioners said they were pleased with the plans, but they did not offer any ringing endorsements. Board president Keith Schoen said the board must balance between serving the surrounding homes and the entire village. Marty Durkin, who lives near Maryknoll and is running for park commissioner in April, agreed. "I view this as a park for the village and a park for the neighborhood," Durkin said. The district bought the site for $5.3 million, with help from a $2 million grant from Gov. George Ryan's Illinois FIRST infrastructure program and a $1 million loan from the village.
---