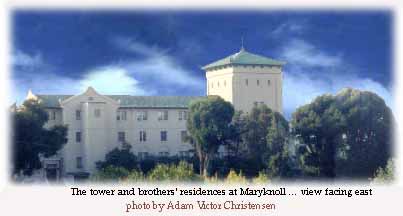 Welcome to Maryknoll
from Reverend Dan Jensen, MM
I'd like to take this opportunity to welcome you to our neighborhood and to personally invite you to an intimate candlelight acoustic concert performed by Celtic harpist Kim Robertson on Thursday January 3 and Friday January 4 2002 at our Chapel. We've been here since 1926 and look forward to your visit. Now that you are living here in our part of Silicon Valley, you may have wondered what that big building is on the top of the hill.
Maryknoll Residence was built in 1926 as a residential seminary for students who were studying for the Roman Catholic priesthood at Saint Joseph's Seminary which was destroyed in the Loma Prieta earthquake of 1989. The seminarians residing in our building were preparing to enter Maryknoll.
Maryknoll, the Catholic Foreign Mission Society of the United States with headquarters in Westchester County, New York, has as its mission to send its members to foreign lands, to work among the poor and abandoned.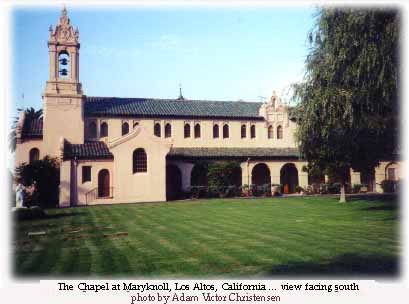 In the mid '70's, the seminary closed its doors for lack of candidates and subsequently re-opened as a home for retired missioners. Our current census is about 32 residents but we have room for 40. The building, which was damaged in Loma Prieta reflects the international nature of the Maryknoll Society. Notice the upturned eaves on the tower and main roof lines giving the architectural profile an Oriental touch.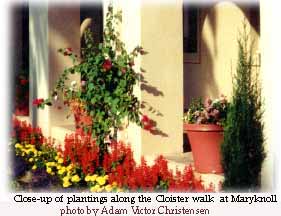 But then, there's the traditional Spanish mission style, arched colonnade and a Baroque bell tower capping the Romanesque chapel. There are a lot of stories to tell there!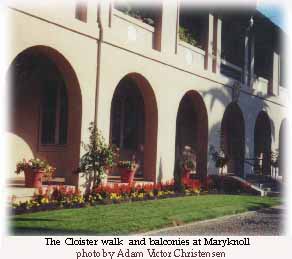 Some other points of interest ...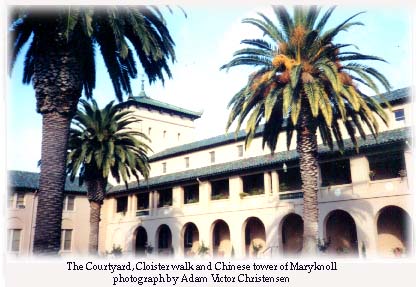 The Chinese tower, from which you can see Oakland and beyond ...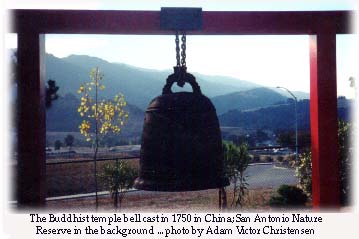 the Buddhist temple bell dating back to 1750 ...
Our grounds are open to you, our neighbors, during the daylight hours. We invite you to stop by, to walk through the gardens, to visit the chapel. Mass is offered daily at 8 a.m. and you will be more than welcome to join us. To assist at ceremonies on major feast days, please call ahead. On occasion we have concerts in our chapel which is blessed with excellent acoustics. You will be welcome to attend these, space permitting.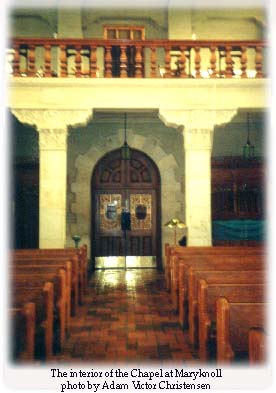 For their own safety, we do ask that unaccompanied children not be allowed to roam about. Also, we request that you respect the peace and serenity of our home. We feel very happy to have you with us and we pray that your new home and neighborhood be blessed by God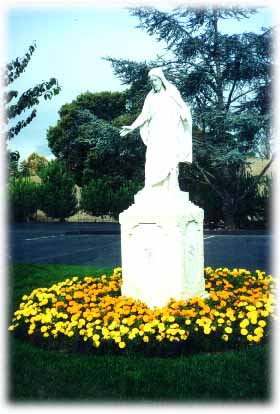 On behalf of your quiet neighbors
the Maryknoll Fathers and Brothers,
I am sincerely yours
Reverend Daniel Jensen, MM
Maryknoll
23000 Cristo Rey Drive
Los Altos, California
Return to Kim Robertson in Concert
Questions regarding Kim Robertson's Maryknoll performances
Directions to Maryknoll courtesy of Yahoo Maps

Kim Robertson Home Page | The Spiral Gate | Wood, Fire & Gold | Star of Wonder |
Biographical Sketch Illustrated Discography | Lyrics | Articles, Interviews and Reviews |
Concert & Media Itinerary | Image Gallery |
Subscribe to Kim Robertson's Newsletter | Photo Album | News

page design , photography and colorization by Adam Victor Christensen