2013 Reunion at the Rim - Band of Brothers - GE Class of 1965 <! xxxxxxxxxxxxxxxxxxxxxxxxxxxxxxxxxxxxxxxxxxxxxxxx-->
---
2013 Reunion at the Rim - Band of Brothers (GE Class of 1965)
---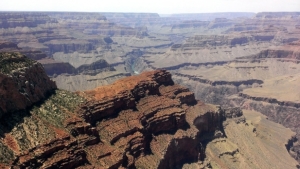 ---
Band of Brothers:

Click below for pictures of the group of 6 and 8, and some pictures of
the trails we hiked in the canyon.  A few days after we left the rim,
Hank Kehoe arrived in Prescott for a visit with Bill Jacobs and Joe
Holtey.

Pictures [Click]
---

Accounts of all participants follow:

Chris Bradley [Click] Tom Duncan [Click] Bill Jacobs [Click] Bill Murphy [Click] Dean Duncan [Click] Dave Parsons [Click] Norm Birzer [Click] Joe Holtey [Click]
---
Chris Bradley Note Seven of the Band gathered at the Grand Canyon beginning on Monday, May 13, 2013 (we had an eighth - Dean Duncan brought his brother Tom along). Tom is younger than Dean by 10 years. Hmm, stronger than us by 10 years.... We might be older but not stupid; we adopted Tom as a bro in a heartbeat. Ask Bill Murphy about how invaluable was the "in better shape" and younger Tom Duncan. You see, Bill and Tom were the only ones to - at 6:30AM Wednesday - begin the descent to the canyon floor and return the same day - or, more accurately, way overtime at night under a sliver of silver moon beam as one would have it. Those of us awaiting their return took comfort in the fact that neither were alone. Norm and Dean were at the Bright Angel trail head at the expected time of arrival, only to nervously await as hours went by and darkness overspread the canyon trail with nary a glimpse of Bill and Tom. With growing concern Dave and I were waiting at the hotel, when Tom managed to get a cell call to me that they were ok and on the way up the trail - but not sure how much further away was the rim. With that info relayed, Norm and Dean began descending Bright Angel, wanting to get eyes on the wayward chicks. A good while passed before Tom and Bill came around the bend and into sight. Around 9 PM, Norm called my cell with the news that 'the chicks are in the nest'. Bill and Tom were the conquering heroes of the trip; they beat the Grand Canyon. Sore and walking funny, we ate dinner late that evening, together. The day before, Tuesday, Bill Jacobs and Joe Holtey drove up from Prescott, pretty much a 6 hour round trip, to spend breakfast and the morning with us. Almost 50 years have passed since I last saw Joe Holtey....the Band of Brothers is remarkable. I do not think we ever ate lunch that week, for soon after Bill and Joe left for the return trip to Prescott, we were off to our first visit at the canyon. Some forgot water, or sun tan lotion, a hat, even a snack. Except for no one having an extra hat and without having to ask, the guys shared power bars, water and lotion to those who had none. I was so impressed by these simple acts of generosity. The week was a celebration of the friendship of men who share 50 or more years of history. Jokes and laughter - guffaws breaking out at the silliest of things - sapped our breath as we hiked around the canyon's rim, or interrupted food or drink from reaching our gullets. We hung out like family, eating and enjoying each day's adventures. The only day, if I recall correctly, that we did not hang totally together was, Wednesday, Grand Canyon Descent Day. Dave and I hiked over a mile down the Bright Angel Trail; Norm and Dean hiked some of the path that goes round the rim of the canyon; and Bill and Tom did the full trek. On Thursday we all spent nearly the full day out in the sun, taking in the sights from along the red route of the canyon rim. Thursday night before we had to leave for home we gathered in Norm and Dean's room to drink wine and....jokes were the topic of the night. Tom told the most jokes, Bill told the longest jokes, so much so that the devil in me complained, Dave told a joke, I don't recall Norm's joke, Dean told a few; and since I knew none, I continued to bust Bill - all red and blustery was he. Tell you this, though. No one of us behaved like seniors of 60 and 70. We were out every day acting like the kids at heart that we are. At quieter moments in the hotel we found ourselves in hearty discussions which centered around the country's ills and possible fixes. We spoke of family, future plans for travel, possible residence changes, the timing for the next reunion, life since we last met, and plans for the return trips to Texas, Maryland, New Jersey and Washington. It was a very special time; the only thing that could have added to the enjoyment would have been more of our brothers sharing it with us. Until the next time.... Chris
---
Note from Tom Duncan Hi Chris, Wanted to thank you all and add my notes on the gathering. I was amazed at how easy it was to fit into the group. Everyone had a sick sense of humor and never had anything kind to say so I felt like I fit right in. Whoever was talking was never listened to and as a result no one ever figured out what anyone was talking about. When Norm started talking about the jets he flew everyone started looking into the air. When Bill started talking about his time in the seminary everyone kept waiting for him to take a breath so they could break in, which never happened. Chris usually spoke up when everyone wasn't looking or when they finally figured out no one was listening. Dave never did get a chance to say much and decided to give up. Dean kept telling everyone about the benefits to rubbing buffalo pies on his lips so all in all it was like being back in school again. You just couldn't figure out who the professor was. The reality was I had such a good time the days flew by and by the time Friday came around I was wishing we could do it all over again. Was impressed with how intelligent you each are and how good a sense of humor you all have. You even laughed at my bad jokes and sick sense of humor . Have to say by the time I came home I felt relaxed and had some good stories to share with my friends. Doesn't get any better than that.. Tom
---
Note from Bill Jacobs Grand Canyon Mini-class Reunion Joe Holtey and I were able to drive up from Prescott, AZ and visit with our classmates on the morning of the first day of the Reunion. Dave Parsons was waiting for us in the hotel restaurant. We chatted for about 30 minutes and wondered why the other five were sleeping in. After all, it was 11:00 AM EST! Taking a break to extinguish my "coffee overflow" light, I found the "gang of five" sitting in the lobby wondering why Dave was still asleep and where the heck were those laggards driving up from Prescott. Hey, what do you expect from a bunch of guys highly trained as philosophic thinkers and ill-trained in the art of time management and planning. It was great to visit with everyone once again, Chris, Joe, Dave, Norm, Bill, Dean, and Dean's brother, Tom. These reunions are forever reminding us the best group of friends we have is our Maryknoll classmates. We were sorry we could not spend more time together. From all accounts it was a memorable gathering. According to rumors, Bill Murphy experimented with the old mantra, what does not kill you, makes you better! The event planners deserve much credit for selecting such a scenic location for the Reunion. A little anecdote, Joe and I meet every month or two for breakfast to solve the world's problems. A few weeks ago Joe mentioned he was part of a small group of GE ham radio enthusiasts. While the rest of us were getting into trouble on Chicago Days, the "radio" gang was seeking out radio stations asking for private tours. Joe wondered what happened to these guys, particularly Harvey Cox who wanted to become a radio broadcaster. As fate would have it, when I was stationed near Norfolk in 1969, the local TV news broadcaster WAS Harvey. As for the other guy in the GE "radio" group, Joe would eventually find out what happened to him. He (Bill Murphy) was sitting right at the restaurant table with us in the Grand Canyon.
---
Note from Bill Murphy Just a few thoughts about the "reunion at the rim" a few of us had May 13th through 17th at the Grand Canyon this month. It was truly a fine time. Dean Duncan, his brother Tom, Chris Bradley, Dave Parsons, Norm Birzer (from the Hingham class of'65) and I met in Tusayan Arizona, just outside the entrance to the canyon. The first night we all met in the hotel bar at 6 pm and talked and joked and reminisced about our lives and what we've done over the past several years. We finaly closed the restaurant around 11 pm. It's amazing how much we all still have in common after all these years. (Don't worry guys,we only had positive things to say about you all!!) The next morning we were joined at breakfast by Bill Jacobs and Joe Holtey who had come up to the hotel to visit. They could only stay for half a day. They both live in Prescott Arizona which is about a three hour drive away. Again we all just kept on talking, finally closing the dining room by noon. It was great to see them; we just wished they could have stayed. Then it was on to the Canyon. If any of you haven't seen the Canyon, it's one of the most magnificent sights you'll ever see. Please put it on your bucket lists. (Actually, at our age any list we make is probably a bucket list!!). The rest of Tuesday was spent walking the rim trails and visiting the museums along the top. Wednesday the intrepid Band walked the trails. As we said we would do, we went on several varying lengths of trail, depending on what we wanted to do. Tom Duncan and I chose to walk down to the Colorado River and back. We left early and got back very late but it was an unforgettable experience. Also it left us hobbling around and quite sore for the next several days!! But we loved It! Thursday we got a chance to see the western part of the rim, which gives you a whole diffferent view of the Canyon, then it was back to the hotel and another round of dinner at the Mexican restaurant where we ate much of the week. We've all become big fans of Mexican food! Then back to the hotel for even more talking!! I'm telling you those guys would make Mother Teresa tell them to shut up!! I have to say that this was one of the best times I've ever had and can only say that if any group of any size of The Band can get together even if for just a short visit you will be surprised at how much those Maryknoll friendships from so long ago are still strong. The term Band Of Brothers is absolutely the right one to describe us. Bye for now.Bill M
---
Note from Dean Duncan Reunion at the Rim What a perfect mix of friendship and nature! It was wonderful the experience the awesome beauty of the Grand Canyon with such grand group of old friends. It always amazes me that even 47 years can't dim the close bond established so many years ago. It was most enjoyable to catch up and hear the stories of where our different life paths had taken us. So glad I had this opportunity. I especially appreciated Bill Jacobs and Joe Holtey taking time out to drive up and spend the morning with us. What's next ?
---
Note from Dave Parsons With the backdrop of one of America's most spectacular natural wonders it was a pleasure to get reacquainted with some of the mates and reminisce about the old days. And yes, for all of those who could not attend, we DID talk about you, and probably tarnished your reputations somewhat. Norm says that lies were told, and we fraternally accept his self-confession. For the rest of us, however, I'm sure we would agree that only the absolute truth escaped our lips. Great get-together and I hope it won't be too long before we meet and visit again.
---
Note from Norm Birzer May 2013 Brothers at Grand Canyon It was 47 years ago that we had a transforming experience at Hingham, Mass., then dispersed. Seven of us came together again at the South Rim of the Grand Canyon last week. Recollections, dissections, criticisms, exaggerations, and other lies competed for attention in our non-stop dialogue. Friendship, courtesy and respect prevailed. Only the briefest foray into politics revealed the astounding: most of us leaned to the right!! Who would have thought? Meanwhile, we enjoyed the wonders of nature at it's best, in perfect weather conditions. What a trip! Norm
---
Note from Joe Holtey A few words regarding a get together of the Glen Ellen crowd at the Grand Canyon on 14 may.. Thanks to our coordinator Chris Bradley, eight of us met at the Grand Canyon and had a long breakfast and spoke of events that had occurred in each of our lives since most of us had last seen each other almost 50 years ago. Because the time was short for Bill Jacobs and myself who had driven up from Prescott for the meeting I was not able to speak at length with anyone except those seated near me. I enjoyed my chat with Dean Duncan and Norm Birzer and spoke for a while with Bill Murphy. It is a shame we all live so far apart for we would be close friends and confidants if we lived closer to each other. My warmest regards to all who were present. Through the marvel of modern technology I was able to dictate this entire text through the use of my Dragon voice recognition software. Signed Joe Holtey
---